Would you like to to break your bad habits and start living a guilt-free life of freedom?
You don't have to be a slave to your bad habits. I quit smoking and using chewing tobacco, my wife and several other family members quit smoking, a friend quit drinking booze, and YOU too can quit your bad habits
no matter what they are

with the help of Free at Last!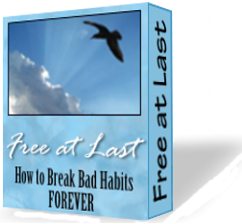 Image for illustration purposes only.
Dear Valued Visitor,
If you've ever tried to quit a bad habit and failed, you know how disappointing it feels.
It doesn't matter what habit you tried to kick, or how many times you may have failed before, with Free at Last: How to Break Bad Habits...Forever, you'll finally be able to kick your bad habits for good.
There are many reasons why people who try to break a bad habit fail. The most common reasons are:
They fail because they quit on impulse. This works for a few people, but when the emotions that inspired them to break a bad habit fades, most people's will to change also fades. The freedom tactics taught in Free at Last don't depend on mere willpower.
They fail because they try using someone else's plan—but we're all different—one plan does not fit all. Free at Last will show you how to design your own custom plan for breaking bad habits. This can be a powerful difference!
They fail because someone else pushed them into it, or because they just think they should, not because they really wanted to change. Free at Last will help you get in the right mindset before you quit and help you stay where you need to be mentally.
They fail because they don't understand the six stages of change. When they have a relapse they take it as a fatal blow to their hopes, but it's really a very predictable part of the path to change. Free at Last explains these six stages so you know what to expect and can measure your progress.
Notice it doesn't say they fail because they are weak-willed. That's the fatal flaw in most plans, they rely on strength of will. Of course, you do need to exercise your will, but with
Free at Last
strength of will is much less of a factor because you'll have the right plan and the right knowledge—and knowledge is power!
What change would you like to make?
Would you like to quit smoking?

I don't blame you. Even "light" smokers burn up hundreds of dollars each year turning cash into smoke. At $5.00 a pack (less than the national average) a pack a day habit costs $1,825 a year! With Free at Last you can quit. That's a lot of savings!

Would you like to quit drinking alcohol?

I can see why, it's very expensive too—not to mention the fact that the buzz you feel is because you're actually poisoning yourself. And the hangovers...ugh, who needs that?

Would you like to lose weight?

Free at Last isn't a diet, but it can help you lose weight too.

Would you like to stop:

...gambling
...smoking dope
...viewing porn
...shopping compulsively
...biting your nails
...procrastinating
...snacking between meals
...smoking cigarettes
...drinking alcohol
...overeating
Free at Last
can help you overcome all those bad habits and most others as well. You don't have to be controlled by your bad habits any longer!
How can a 35-page ebook help with all those problems?
It's not as complicated as you might think. Breaking a bad habit is a lifestyle change. Free at Last explains the six stages of the self-change process so you know what to expect at every stage. You'll learn how to prepare for change, countering techniques when temptations arise, the causes of relapse and more. You'll also discover how to design your own success plan to make the changes you want to make.
Afraid you don't have the confidence to break your bad habits?
Confidence and willpower don't play near as big a role in
Free at Last
as other "stopping" programs, but self-condidence can help, and we want to help you here, too.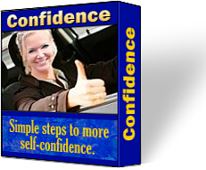 Tha's why we're including a special 26-page ebook titled Confidence as a free bonus. This ebook will transform your life if you lack self-confidence now.
To be perfectly honest with you, Confidence could be sold as a stand alone product, it's that good, but I wrote it specifically as a bonus for Free at Last because I felt it would be the perfect companion ebook.
Here's a nice surprise...
You're already getting two great ebooks for one
very low price
, but I'm also including
Master Resale Rights
with this package!
In case you're not familiar with Master Resale Rights, that means that after you buy Free at Last you can turn around and resell it—and you get to keep all the money you get from your sales!
You also get to pass on the Master Resale Rights to your customers. It's one more reason for them to buy from you.
Let's recap what you get with this great Master Resale Rights package:

The core product—a 35-page, high-quality ebook that shows people how to overcome their bad habits for good.

Professionally written sales copy by a proven writer, provided in both HTML and plain text format.

A professionally designed sales page with quality graphics. Use it as a mini-site or paste the code without the header and background into your own template so it matches your site. Use only the images you want.

Master Resale Rights—you keep all the money from your sales, and it only takes one sale to break even and two sales to make a profit!

As an incentive to your potential customers to buy, you get to pass on the Master Resale Rights to them to help you make more sales, and they can do the same, right on down the line.

As an additional incentive for your customers to buy, a 26-page ebook about building self-confidence is included for you to offer as a free bonus.
All this for
ONLY $17.00!