How would you like to have the best trained,
most well-mannered, happiest dog around?
Dog training doesn't have to be frustrating, difficult, or time consuming. With the "Love My Dog Training Guide" to clearly show you the way, your dog will LOVE learning from you and will be eager to please you—and it only takes a few minutes each day!
Nearly all dogs are naturally eager to please their human—the trouble is, most of the time dogs don't know how because the human isn't making it clear to the dog what it should do in a way the dog understands! Those days are so OVER...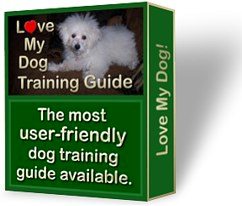 Image for illustration purposes only.
Dear Fellow Dog Lover,
If you've never been taught how to train a dog the right way, chances are you will make a lot of mistakes that cause the training to be much less effective and take far longer than it should, frustrating both you and your dog.
Use the right methods, however, and training a dog is fun, easy, and highly rewarding! Your dog will love learning and love you with more devotion than seems possible.
Just as importantly, you will love every happy, tail-wagging minute!
The Love My Dog Training Guide was written for people who really do love their dog and don't want to use training methods that incorporate cruelty such as choke chains, shock collars, or any forms of punishment. A dog shouldn't be punished for being a dog!
Shhh—here's our biggest secret...
Successful training isn't about getting your dog to obey you, it's about you understanding your dog so you can effectively teach him what you want him to do. We show you
exactly
how to train your dog step-by-step using positive reinforcement and rewards.
These methods are highly effective—there's just no need for "old school" methods designed to break your animal's spirit when your dog really wants to please you.
Inside this well-written training guide you'll discover...

How to choose the right dog based on your lifestyle, family situation, and other important considerations.

Training Basics—this is what YOU need to know before training your dog. It provides a clear overview of the training methods so you can see the big picture before using the individual lessons to train your dog.

Naturally, the first lesson is teaching your dog not to go potty in the house. That's the BIG one, right? :)

Then you'll discover the easiest, dog-friendliest ways to teach your dog or puppy her name, to come when called, to sit, to stay, to lie down, to heel, and not to jump on people.

Your dog will not only learn verbal commands, but for some of the commands your lovable, loyal companion will also learn visual commands. Imagine using a simple hand gesture to tell your dog to sit or to lie down—and your dog obeys!
Having a well-trained dog has more purpose than just simple obedience. Suppose your dog was about to run into traffic. He could be killed . . . it happens every single day. However, if your dog is trained to come when called you could save your dogs life with a single word!

This is Much More than a Dog Training Guide!
The
Love My Dog Training Guide
is really more than a how-to manual to teach your dog all the basic commands. By using these training techniques you'll actually build a stronger relationship with your dog based on trust and mutual respect.
Your dog will be obedient, well-adjusted, properly socialized and happy!
And this part is really cool—you also get Master Resale Rights to this product! That means you can sell it too, and you get to keep all the money you make from your sales! We hope to accomplish three things by including Master Resale Rights:
We hope to help people out during these challenging economic times by providing an easy to sell product so anyone who wants to can earn extra money with minimal effort.
We hope when people learn our dog-friendly, trainer-friendly dog training methods we'll be a part of ending cruel training methods for good. We'll feel the best way to do that is to give people Master Resale Rights as an incentive to help distribute the guide.
We mention two other products at the end of the guide, so we hope to make sales that way.
Of course, not everyone will want to be a reseller, and that's okay. Some folks will just want to train their dog. This guide is easily worth more than the low asking price without the Master Resale Rights included, so those only interested in dog training will definitly get their money's worth. But, we're also including a great, free bonus...
FREE BONUS

: The Big Book of Dog Names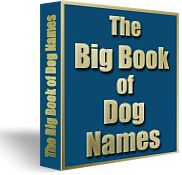 Included as a FREE bonus is our 77-page
Big Book of Dog Names
. You'll get the 30 most popular male and female dog names, plus we've carefully selected a huge list of almost 3,000 other popular dog names, unusual but cool dog names, and crazy wild dog names for you. The names are conveniently sorted in alphabetical order so you'll be able to find the perfect name for your puppy or new dog without blowing a head gasket!
This is crazy...
You get the 68-page
Love My Dog Training Guide
, complete with Master Resale Rights at
no additional charge
, plus a professionally written, professionally designed sales page to use as is or you can edit it to your liking, and you get the 77-page
Big Book of Dog Names
—
all for just $17.00!
Now that's crazy!
All hype aside, you have to admit that's a GREAT price. Make just one sale and you've got your money back. The reseller kit has an instruction set to help you get started selling online if you haven't done that before. Anyone can make one sale, and when you do you've got your money back. After that, everything is money in your pocket that you otherwise wouldn't have!
If you know a great value when you see it, you'll jump all over this offer right now!