Seize the Simple Business Opportunity
That 99 Out Of 100 Marketers Miss...
Create Easy Starter Websites To Sell For Fast Cash!
Start Your Successful "Turnkey" Operation
And Generate Fast Cash In An Afternoon
From The Desk Of YOUR NAME
Dear Income Seeker,
You've heard the phrase "leaving the money on the table." It seems to imply you've been careless in running your business - but you know nothing could be further from the truth.
Granted, you know you're not ready for certain internet marketing steps yet - building a strong foundation takes time.
But you've worked harder than you sometimes thought possible, and taken all the steps you could take. You've stretched yourself right out of your comfort zone in an effort to reach that promised level of internet marketing success you are still struggling to reach.
Don't worry. It's a process, and we each take our unique journeys one step at a time.
Sometimes, we find a handy shortcut - or expand in multiple directions for a short while (that's always exciting!) before settling back to our usual pace.
There's such a lot to absorb and learn.
Some things you pick up quickly. Some you think you're never going to wrap your head around and master.
But you will.
One key to financial success lies in creating multiple streams of income.
And I'm going to open a door on one particular easier "stream" today.
Whether or not you decide to step through will depend on factors unique to:
Where you are in your internet marketing adventure




What you want or need right now.




What you need to learn




What you already know



But a new door is open, and it's waiting. All you have to do is say, "Yes, I can do that!" ... and step through.
Ready To Start Exploring Your Possibilities?
Think of yourself suddenly discovering a safe and easy shortcut that will organically allow you to:
Increase your "web credibility" status




Generate an extra stream of constant cash




Make money when you need it




Do it on a shoestring, with a minimum of time and expense



Now when I say "a minimum of time," I mean that every time you need a cash infusion, you'll set up and deploy one of these little money-making gems in less than an afternoon.
(I've got to the point where I can do it in just over an hour!)
I discovered this easy method of generating cash pretty much the same way you may have discovered this page: I fell into it sideways, by accident.
Its effectiveness took me totally by surprise.
And it was easier (and much more fun!) than falling off the proverbial log.
In fact, the landing was downright soft!
It Was So Simple, I Couldn't Quite Believe It Was True
You see, I already had all the skills.
(I just didn't know it!)
And once I set my little system in place, the money kept rolling down the line, in small but regular amounts...
...that rapidly grew larger.
Now, before you start worrying about how to do it, you need to know those all-important "insider" tips and secrets about what to do and where to do it.
In fact, if you're in the same place I was, you probably already know "how."
It's not going to take a hefty investment. (In fact, you may not even have to shell out any cash at all - but more of that shortly.)
I'm not going to tell you it will allow you to buy a yacht in a year. You won't pay off your entire mortgage next month, or buy a Ferrari for cash with my solid little secret.
But you will have the potential to bring in extra income when you need it. Every month. All year round. Rain or shine.
(Wouldn't that be a relief?)
How you spend it is entirely up to you!
What If I Showed You A Way
To Make Extra Cash "Grow On Trees"
Any Time You Need It?
Well, okay. Not literally growing on trees, of course - but if you're anything like I was, it will feel like that, when you begin to watch your profit rolling in!
It's definitely not rocket science, and you really can learn how in an less than an hour.
In fact, you can start your new sideline (or new main business!) straight away.
I'm talking about selling turnkey website "starter" packages for a profit. Without knowing much about CSS, HTML, PHP - or web design at all.
In my 48-page Special Report, Website Flipping Tactics, I show you how there are 3 easy ways to do it - and you will have a huge advantage: You're privy to knowledge the majority of your competition just hasn't put in place.
Within minutes of downloading you'll discover:
The one thing your new domain name absolutely must be able to do

2 questions to ask yourself while you're setting this proven strategy in motion

2 deciding factors that will dictate your profit ratio

How much money you can expect to make - and spend

One easy habit to develop that will help you create powerful, hot-selling domain names every time

7 characteristics your site needs to show, in order to vault instantly to the top sellers list

5 failsafe conditions you absolutely must set up before your site can convert to big-time profits



When you've finished reading my 48-page Special Report, Website Flipping Tactics, you won't have hands-on experience - at least not yet, of course - but that will be speedily and painlessly remedied.
Because before you've even finished reading it, you will know something that the majority of your competition doesn't (judging by the junk for sale out there).
("Junk", by the way, you can swoop up, quickly redo and resell for a profit).
Plus you'll be able to create properly optimized and functioning starter websites from scratch. I"ll give you a bird's-eye overview of everything you need to know and do to start your website flipping business off the right way.
Sure, you can figure it out yourself, with solid research, and well-informed searches.
Trouble is, if you're like I was, you're going to make some costly mistakes along the way.
(Oh, nothing that will leave you without a roof over your head - but you may end up kicking yourself, as I did, for not seeing an easy opportunity until it was too late, or finding yourself with an impatient customer demanding a refund as you make the inevitable "beginner" mistakes.)
All because you forgot the smallest but most important step.
But why put yourself through the "trial-and-error" gauntlet? My 48-page Special Report, Website Flipping Tactics can help you:
Avoid potential pitfalls instantly




Get the most return on your investment




Rocket boost your chances of selling, right off the launch pad!



Once you've seen how much easier (and more profitable!) it is to start out with a solid plan to follow you'll be ready to start making real money on simple starter websites with confidence.
Because you'll know what to do - and what not to - just like a pro!
You'll be able to instantly identify the gaps in your knowledge and experience - and learn which types of starter websites would be easiest for you to create and customize.
(You won't waste your time on site models that are too much of a stretch right now - and the time you save alone is worth the small investment you'll make today!)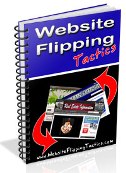 I also include valuable insider information you simply can't afford to miss, if you've arrived at this site because you've been seriously considering a turnkey business opportunity:
How to find hot niches - with low competition!




The best "non-techie", user-friendly choices for website creation




Tips for finding the best templates for turnkey sites meant for flipping




Registering a domain name with a registrar who makes it easy to transfer




Hosting company secrets

you'll need to know ahead of time



Monetizing successfully at a starter level



And for those especially interested in setting up and reselling niche blogging sites, I include:
Quick-start tips for WordPress - and plug in tips that will save you hours of time (and more!)

4 crucial components that guarantee a red hot niche blog site

2 "must know" tips to make sure your blog isn't on silent running

The one thing you must be able to prove, to create good affiliate marketing niche sales sites that sell

Script sites demystified - what are they, and how do they work?

Firefox's nifty secret weapons




The one drawback you can't - and shouldn't! - hide
It doesn't matter if you want to create a site to sell a single affiliate product - or a hot niche blog. Website Flipping Tactics will help you decide, then point you in the right direction.
So if you want to know the single most powerful "make-or-break" secret weapon (get careless on this one - and your site may not sell!) press the button to download your copy today for only $17.00!
You'll also learn valuable tips about:
What To Do When Your Blog Sells
Because you're going to succeed at it, remember!
And this is the part where most people fall down flat.
I can tip you off about:
How to safely transfer a blog without losing the data




How to transfer domain names - and sites




Fees you have to be aware of - so you can avoid them, when necessary




How to protect yourself against scammers or frauds




An extra stream of recurring "no maintenance" income you can add to every website sale!



AND... You can make even more money by taking your old long-forgotten, inexpertly set up "amateur" websites and blogs that died a painful death. Resurrect the poor little puppies, clean them up - and add them to your sale roster. Click the order button above to find out how to spend the least money - while making the most!
To Your Success,

Dennis
P.S. There'll be no more talk of leaving "money on the table." You'll know how to attract every last dollar out of every sale.
Are you ready to learn this easy way of picking up extra cash?
Then what are you waiting for? Click the order button above right now and start flipping easy starter websites today!