You Can Make a High Ranking Website in Your Spare Time that Stuffs Your Pockets with Cash, Rewards You with Prestige and Respect, and Opens Up a Hidden World of Opportunities!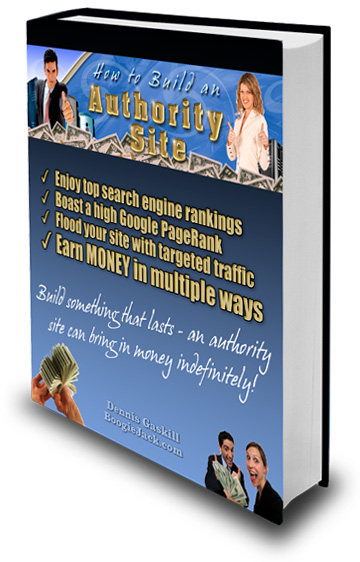 From: Dennis Gaskill
To: YOU!
If you could, which one of the following problems would you want to get rid of?
Your website hardly get any visitors.
Your website never shows up in the top search results and you're tired of the search engines ingoring it.
You're not making any sales.
You're unsure of how to fix the problems—or even if they can be fixed.
The good news is, there's no need to choose—you can get rid of all those problems for good!
Introducing...
How to Build an Authority Site
This 77-page ebook is the culmination of over 15 years experience as a webmaster, web designer, and published book author on web design—and I'd love to share my secrets with you!
Before showing you how this ebook can help you, do me one favor...
Don't let the word "authority" intimidate you. Anyone can build an authority website.
You don't need any expertise to get started, and you will naturally and easily develop it as you build your site if you don't already have it. It's really not a big deal at all.
What could having an authority site mean to you? Here's a glimpse...

Your website will enjoy many, many pages that actually rank high enough in the search engines that people will see and click your links.

High search engine rankings, especially for dozens or even hundreds of search terms for your various pages mean one thing—your site will get TONS of FREE traffic.

Having an authority site means you'll become known as an expert in your chosen field (which can be almost anything), and with that comes respect, prestige, and credibility.

Credibility means you can sell your own products, easily build a great mailing list, and successfully promote affiliate products. You know what that means...

Money, money, money! In the pages of How to Build an Authority Site I detail the 8 different ways (some active, some passive) that I earn money from authority sites.
Those are just a few of the benefits that come with the territory. When you have an authority site, a new world of benefits and opportunities open up to you almost like magic.
Discover a World of Hidden Opportunities
As the owner of an authority site, you'll be amazed at the opportunities that come your way. Here are a few examples:

As you read this, I'm being paid hundreds of dollars per year by multiple companies just for placing one link on my site to their site. They know the value of getting links from sites with a high PageRank.
I don't seek those opportunities out. Those willing to pay came to me with their offers, and I turn down far more offers than I accept because I don't like the fit. Talk about easy money!

I'm also offered free software and ebooks to review—lots of them. Some sell for hundreds of dollars. I can also ask for products I want to review, and about half the time or better I get them. When you have an authority site people want to accommodate you for what you can do for them if you like their product or service—but only if you like them.

I was asked to write a book by a publisher because of one of my authority sites. That's how I became a published author and now have 3 books to my credit!
Those are just a few examples, but this isn't about me—this is about YOU, and helping you to become an online success. Are you using one of the following models of site building:
The Ad Nauseum Model

The idea is to build 100 or more websites that earn $1 a day from Adsense for a $3,000 a month income. People really try to do this! That's just another JOB. It's much easier to build an authority site.

The Guess and Hope Model

This is what most people do. They guess at what to write about, how to structure the website, how to get traffic, and guess at everything else and hope it works out. It rarely does—there's too much guessing.

The No Confidence Model

This is building websites with no big hopes for success because the person doesn't feel important. They may not think that consciously, but it works out that way. It's a tragic waste of talent, and so very unnecessary.

The Churn and Burn Model

Create a product, build a website for it, launch the product, abandon the site as you move on to the next great thing. Following this model means you're always on the run. If you stop, so does most of your income. That doesn't happen with an authority site.

The Unfocused Content Model

A scattered site focus results in most or all of your content being too watered down to rank well in the search engines. A LOT of webmasters fall into this trap. With How to Build an Authority Site you'll discover the secrets that please the search engines and attract visitors.
How to Build an Authority Site is a proven way to build a website that ranks well and gets loads of free visitors from the search engines. I've done the hard work for you by reading Google patent applications and conducting experiments to discover what works and what doesn't.
A Warning to the Cookie Cutter Site Makers
The old days of building 3-4 page cookie cutter sites and getting by with them is in the rear view mirror. All the major search engines are moving away fast from that old model.
If that's been your model, it's time to step smartly into the future before you're left behind trying to resurrect the dead.
Authority sites have always been good, but they are the wave of the future as well as the historical model of success.
Better Information = Better Results
It doesn't matter what you've tried before, if you aren't experiencing great results from the search engines,
How to Build an Authority Site
can change all that for you.
All you need to bring to the table is a desire to build a website that lasts.
What do I mean by a site that lasts? It's simple—I started my first authority site in 1997 and it's still going strong and producing a great income today.
A site that lasts is based on a long-term view rather than on shortcuts and trickery that are temporary at best, and at worst, could result in your website being banned. How to Build an Authority Site is pure white hat, no dirty tricks the search engines disapprove of are used.
You Create Your Tomorrows Today
It's obvious, but it's still worth mentioning—the conditions we experience in our tomorrows come about because of what we do with our todays.
I don't know about you, but I'm not counting on social security payments for my only retirement income. It may not even be there, but as long as the Internet is here I'll be set up with several automated income streams . . . and I won't have to work but 2-5 hours a week for it.
Building an authority site is an investment in your here-and-now and in your future.
You can build an authority site for a nice second income, or make it your full-time career like I have. I've been working for myself full-time since the late 1990's.
Whatever you want, you can make it happen. If you choose to go full-time, you can:
Set your own hours.
Take time off for anything.
Work from the comfort of home.
No more alarm clocks! WAHOO!
That's what my "work day" has become since I built my first authority site. Note: I quoted
work day
in the previous sentence because I do a lot of goofing off too. I'm a great boss! :)
One of the best things about having an authority site is that your income is portable. You can live and travel anywhere you like and not have to worry about a job because all you need is an internet connection to keep the money flowing in.
You can build your authority site in your spare time for extra income until it's earning enough to go full-time if that's what you want. That's the way I did it. You don't have to quit your day job first, or ever if you like it. The extra money sure is nice either way. :)
See what regular folks like you have to say
about How To Build An Authority Site...

I've been saying for about the last 8 months that authority sites are going to be the way of the future. The little cookie cutter, low content sites we used to be able to get away with aren't going to cut it anymore. This course Dennis has put together is the best I've seen on exactly what it takes to build one. The best part is he's not speaking from "Theory", the guy built one. No better person to learn it from than someone who has done what they're teaching. Great product, great read and great information.
-
Bryan Zimmerman
JVZoo Founder
(http://www.jvzoo.com)

How To Build An Authority Site is a must have for anyone serious about building a long term, sustainable business! This book covers everything you need to be able to build a site that search engines will love. From the beginning planning stages, to keyword research, to several ways to monetize the site - everything you need is in here and spelled out so that people who are new can understand it, but also with enough beefy information that even some of us "old hands" can learn a trick or two.
-
Lee Dobbins
Best-selling Author
(http://www.websitepromotionblueprint.com)

I've been focusing on building authority sites for a little while now and I've grabbed a lot of information on it when I could find it. "How To Build An Authority Site" is one of the most complete works I've seen up till now, and you can be sure that what Dennis teaches works. Why? Because he's doing it himself, what more proof do you want? The search engines (aka Google) will put more of its love on authority sites, make sure that you're ready to be one of the sites they'll love.
-
Leslie Bogaerts
Lady Wordpress
(http://www.bloggingtomakemoney.org)

Whew! Now THIS is an awesome guide.
I just got done reading Dennis Gaskill's new book and it's easy to see that he really knows his stuff.
As I was going through it, I kept noticing how I do many of the same things—which proves he's not talking through his hat. However, what really grabbed a hold of me was all of the tips and tricks I will now be using to make things easier.
Dennis goes into just the right amount of detail, and he writes in an engaging style that makes the book as enjoyable as it is informative. Oh, and the assignments at the end of each chapter are a nice touch. They will keep you on track and have you moving forward.
This guide shows you how to build a site that really gets noticed by the search engines; a site that people flock to because they WANT to.
Now, I have to be honest here, if you would rather keep hustling to make "fast" money, if you're not interested in long term results, then Dennis' guide may be more than you can handle.
However, if you understand how real money is made online, and if you want to discover how to build a true business, then you NEED this book.
Beginners will love having everything spelled out for them.
The pros among us will appreciate the little nuggets of wisdom that are peppered throughout the book, as well as having the step-by-step template to make things faster and easier.
Simply put, this is a must-have title that any serious webmaster or marketer should add to their digital bookshelf now.
All the best,
Michael
Here's a Little Extra Sugar for You!
As my way of saying thanks, I'm also including a free report titled
Forward Thinking
that details several ideas that will benefit you in your online career.
These are ideas that didn't fit into the format of the ebook because I don't go into the same kind of detail with them that I do in How to Build an Authority Site.
You could call this special report an "idea well" that you can drop your bucket into and draw out fresh ideas.
Mystery Bonus: There's also a Mystery Bonus. It's a pretty cool extra, but I'm keeping it a secret for now. You'll find out what it is (and I think you'll be delighted with it!) when you download your products.
I'm making this very affordable . . . for now. This course could easily sell for $47 or more in a good economy, but in a down economy that price wouldn't be affordable to everyone. So for now, you can grab How to Build an Authority Site for just $27, and that includes Forward Thinking and the Mystery Bonus. I do reserve the right to raise the price at any time.
Grab it now to get in on the lowest price!
PS — Having an authority site means money in your pocket, having opportunities come your way that are hidden to most people, and mucho love and respect from people and the search engines alike. And remember, you have a 45-day money-back guarantee so all the risk is on me. That's how confident I am in this revolutionary new product.
To your success,