Free PDF Ebook...
Crazy Emails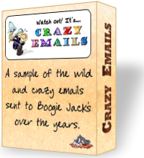 I've received some strange emails since coming online in 1997. This is a small collection of some of the weirdest, strangest, ever!

Some of these are pure absurdity. Others are . . . well, rather than trying to explain it, here are some of the story titles:
Kind Insulation
My Morgansniffer is Dainty
Wiggle in Unison
Toilet Bowl Stew
Feet...on the Other Hand
The Drunken Marmoset
Industrial Strength Deodorant
There's all that a good bit more. Had your dose of nonsense today?

Download Instructions
Right-click the download link and choose: Save Target As, Save Link As, or a similarly worded option from the pop-up menu. The actual wording will vary depending on your browser. Mac users shift+click instead.

Note: The free Adobe Reader is required to view the ebook. Most people already have it, but if you don't you can download it for free from the Adobe Reader Download Page. Follow Adobe's instructions to install.
What Can You Do With This Ebook?
Here are the very generous terms of use:
Read it and enjoy!
Give it away! Let your visitors download it from your own website or blog.
Add it to a free or paid membership site.
Use it as a free bonus product with products you sell.
Use it as an incentive for joining your mailing list.
Email it to friends and family or send them the link to this page.
Can Your Site Be Found?
If you want your web site to rank high in the search engines . . . what are you going to do to get it there? Check out SEO for YOU: Search Engine Optimization for Ordinary Everyday People!

If you haven't built your site yet, now is the best time to discover true search engine optimization. If you have built your site, it's not too late for you.

Check out SEO for YOU now . . . because there's no point in having a site that no one can find!
Almost a Newsletter
Subscribe today for exclusive website design tutorials and grab some free gifts to boot! Learn more, or subcribe below:
Did you know...
The member's site has about 100 standards compliant HTML and CSS tutorials, 31 handy reference charts, reprintable content, web graphics, exclusive fonts, free software, free ebooks and more? All this for less than 9 cents a day! [ Details ]