Free PDF Ebook...
How to Start Your Own Hosting Company for Free!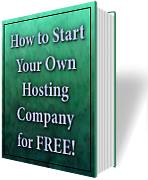 This is no joke, scam, or pipe dream—you really can start your own hosting company, do it for free, and have someone else do all the dirty work like providing tech support and billing services.

You don't lay a dime out unless you want your own domain name. Your hosting company can be up and runing in just a few hours.

Hosting is a great business. There are over 100 million web sites, and more coming online every day. They all need hosting, and the income is recurring—it comes in month after month, year after year.

Do yourself a favor and download this short, 9-page free ebook and read it now. This is an outstanding opportunity to be your own boss and pull in some really good income.

» Download How to Start Your Own Hosting Company for Free! «

Download Instructions
Right-click the download link and choose: Save Target As, Save Link As, or a similarly worded option from the pop-up menu. The actual wording will vary depending on your browser. Mac users shift+click instead.

Note: The free Adobe Reader is required to view the ebook. Most people already have it, but if you don't you can download it for free from the Adobe Reader Download Page. Follow Adobe's instructions to install.
What Can You Do With This Ebook?
Here are the very generous terms of use:
Read it and enjoy!
Give it away! Let your visitors download it from your own website or blog.
Add it to a free or paid membership site.
Use it as a free bonus product with products you sell.
Use it as an incentive for joining your mailing list.
Email it to friends and family or send them the link to this page.
Can Your Site Be Found?
If you want your web site to rank high in the search engines . . . what are you going to do to get it there? Check out SEO for YOU: Search Engine Optimization for Ordinary Everyday People!

If you haven't built your site yet, now is the best time to discover true search engine optimization. If you have built your site, it's not too late for you.

Check out SEO for YOU now . . . because there's no point in having a site that no one can find!
Almost a Newsletter
Subscribe today for exclusive website design tutorials and grab some free gifts to boot! Learn more, or subcribe below:
Did you know...
The member's site has about 100 standards compliant HTML and CSS tutorials, 31 handy reference charts, reprintable content, web graphics, exclusive fonts, free software, free ebooks and more? All this for less than 9 cents a day! [ Details ]