Wordpress Website Secrets
How to Use Wordpress to Build Killer Websites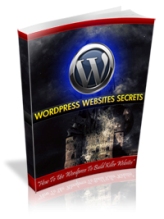 I didn't write this ebook, but I found it to be a very good guide to installing a Wordpress blog and getting it set up right so I bought the Master Resale Rights to it.
If you choose to buy this well written and generously illustrated guide I'll pass on the Master Resale Rights to you.
That means you can sell this product yourself and keep all the money you make from it. Of course, you'll also learn all about Wordpress blogs too.
Included with your purchase:
The core product, the 35-page Wordpress Website Secrets ebook.
A professionally written sales page. (Using it is optional, you may also edit it)
High quality graphics.
The Reseller's Helper special report.
[ View the Sales Page ] (Link will open a in new tab or window)
There is no fluff in this ebook, not even a table of contents. It's got the title graphic on page one and page two starts right in with installed Wordpress. One note: The installation instructions are based on users having cPanel (or a clone) for a control panel.
Pricing
The product creator left it up to you how much to charge for the product. In comparing this product to similar products the price range could be set from $10.00 to $27.00 and be fair. I'm selling it for $17.00.

If you had to hire someone to create this package for you...
| Item | Minimum Cost |
| --- | --- |
| Wordpress Website Secrets ebook | $150 |
| Professionally designed web page | $200 |
| Professional copywriting | $300 |
| Minimum Cost | $650.00 |
That's the minimum it would cost to have this product made to order, you could pay a lot more than that in my estimation.
Let's recap what you get:

The core product—a 35-page, quality ebook that shows people everything they need to know about installing and optimizing a Wordpress blog for search engines, and covers things like plugins, widgets, and changing themes.

Professionally written sales copy. Of course, you can write your own sales copy as well. To be honest, the sales copy that comes with this ebook isn't the best, which is reflected in the price table above showing what it would cost to hire this done. You can probably improve it yourself. Just "spice it up" where your mind starts drifting away as you read it. The graphics (and the ebook itself) are nice though!

A professionally designed sales page with quality graphics. You can also design your own page if you prefer.

Master Resale Rights—you keep all the money from your sales. Never sold ebooks before? Don't worry, see the next bullet item. :o)

A bonus report I wrote called Reseller's Helper in case you've never sold products online before. You can include this ebook for your customers as well, as an added incentive for them to buy.
An Unbelieveable Value!
You get all this for just $17.00—if you sell it at the same price I am (and you can charge more if you want) you only need to make ONE sale to break even.

Anyone can make one sale, but think big—make 1,000 sales and you make $17,000.00! Even if it takes a few years to make 1,000 sales, that's 17 grand you would never have otherwise.

Getting rich rarely happens overnight, but if you start creating multiple income streams using opportunities like this, you're on your way. I've personally sold thousands and thousands of ebooks, I know it's an excellent way to make money.

This is a GOOD product at an FAIR price.

PS - Don't forget, besides reselling this product to make money, you will also learn how to set up Wordpress blogs the right way. You could even start a service charging others to install and set up their blog.
Free PDF ebook with Giveaway Rights
How to Choose a Good Website Host
Current Version: 1.9

Download: Right-click Here and choose Save Link As (Firefox) or Save Target As (IE), or similar wording if you use another browser.

Description: This FREE guide to choosing a good host explains the criteria I use to choose a hosting services provider. It includes giveaway rights if you want to share with your own website visitors or friends.

» Details of How to Choose a Good Host
Can Your Site Be Found?
If you want your web site to rank high in the search engines . . . what are you going to do to get it there? Check out SEO for YOU: Search Engine Optimization for Ordinary Everyday People!

If you haven't built your site yet, now is the best time to discover true search engine optimization. If you have built your site, it's not too late for you.

Check out SEO for YOU now . . . because there's no point in having a site that no one can find!
Almost a Newsletter
Subscribe today for exclusive website design tutorials and grab some free gifts to boot! Learn more, or subcribe below:
Did you know...
The member's site has about 100 standards compliant HTML and CSS tutorials, 31 handy reference charts, reprintable content, web graphics, exclusive fonts, free software, free ebooks and more? All this for less than 9 cents a day! [ Details ]